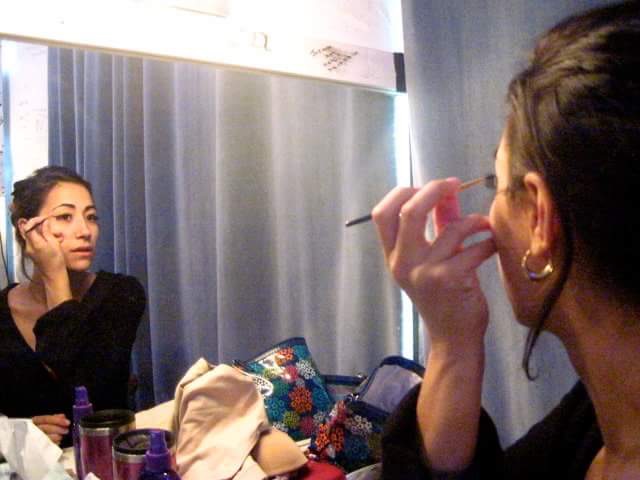 ALUMNI SPOTLIGHT: Anna Librada Mazo
BIO
Anna Librada Mazo joined the Vanaver Caravan Dance Company to be the youngest member when she was fourteen. She holds a degree in Dance from Emerson College and has taught movement and dance extensively throughout the country and around the world. She moved to Granada, Spain in 2003 to fully dedicate herself to her study of flamenco dance. In Granada, Anna lived in the Sacromonte and truly experienced flamenco as a culture and art. In 2007 she moved to Sevilla, Spain where she continues her studies. In March she returned from Japan where she was invited to teach and perform. Currently, Anna is working as guest artist with Artists Alliance Against Violence Inc. She is the Artistic Director of a new performing and administrative
company, Flamenco Librada that unites artists with duende through the mediums of flamenco and contemporary dance. Anna is a certified yoga instructor. She is studying at Yeshiva University for her Masters degree in Social Work with the goal of becoming an advocate for the healing power of the arts.
We caught up with Anna, and here's what she had to say!
How do you spend your time these days, Anna? My days here in Sanlucar, Spain are filled to bursting, but I never forget how blessed I am to be living in my favorite country and to be raising my daughters in the culture of their grandparents. I do a lot of shlepping, of course being a mom to two young girls. Walking the girls to their small, community school right up the street from us is the high point of my day but then the short hours I have on my own fill up quickly. My latest project is producing the first Hudson Valley Flamenco Festival. The Hudson Valley Flamenco Festival has been a distant vision of mine for over ten years. I always thought that the Hudson Valley would be a great place to start building a flamenco scene. We are already such a people-oriented community that adding flamenco seems like a great fit.
My years of experience dancing, studying and teaching flamenco has only confirmed my belief that it is at its root an art of the people; an art form that brings people together to celebrate, mourn and process the human experience. Last year I decided that it was time to put my vision into reality and so I embarked on this wild ride of becoming an event producer. This August 11th and 12th we premiere the festival at the Rosendale Theatre and the Vanaver Caravan SummerDance On Tour company will take part.
I was lucky enough to find the most incredible teacher I have encountered in many years here in Spain. Noelia, my dear teacher and I have been working together for over a year now and have even started performing together. When not taking care of my family, or dancing flamenco, I teach creative movement dance classes and Sevillanas classes on the Naval Base in Rota, Spain.
For how many years did you study/perform with TVC? I have been blessed to be able to come back and work with the Company over the years. I have been quite the nomad in the last 20 years since joining the Company, but I have always been able to come home to the TVC and teach, perform and recharge my batteries. I am going to be teaching flamenco this summer at SDOT and will be working on new repertoire with the Youth Company.
In what ways has The Vanaver Caravan impacted/shaped the life you live today? I think the short answer to this question comes in a story. Being a home-grown New Paltzian Bill and Livia have been staples in my life... I remember that Bill would always dance some flamenco around me and tell me, "you are from Andalucía, you need to study flamenco." After taking a few master classes while dancing with the Company, when I was nineteen I ran away to Spain and became a flamenco dancer. I like to think that Bill always knew. Being part of the Vanaverse has formed who I am as an artist and as a professional artist in the world at large. When I was in college I did a lot of work through Company with the Little Heroes program for children of the victims of 9/11. Those experiences led me to get my Masters Degree in Social Work because I wanted to better understand how to use dance to heal. The mission that Livia and Bill bring forth of forming community, of joining people together because they love to make art, of the power of the arts to unite us have become my philosophy and my life's work, too...and man, can I pack a car.
Tell us a story from your "Vanaverse" days! Where to start? The time when we had a show in Queens and we already almost an hour away when Elijah remembered he had the van keys in his pocket. Poor Bill was distraught looking for them. Or a show where one costume bag didn't make it and we had to improvise with only half of the costumes. Or how Bill and I call each other Stevie and Ray because of our horrific sense of direction and the many hours we have spent lost together. Or the magical mini tour we did of Festival of Lights show in all these precious, little theaters in Upstate NY. One of which had a tiny raked stage and when we were doing the Horah whoever was downstage would be flying over the audience because of the momentum.
Do you have a favorite song/dance that you learned with The Vanaver Caravan? When I learned Rapper Sword, it was like I had finally arrived and became a fully-fledged Vanaver, but I think my favorite dance to perform was Gaudete. The most intense experience I have ever had performing ever was the first time we performed Song of the Ghetto. I don't even remember where we were but we channeled during that dance at one point I think many of us were in tears.
Give us three to five words you'd use to describe the overall feeling you get when you think of that time. Home, roots, connection, percussive-love
Thank you, Anna. We love you!
Join Anna and The Vanaver Caravan's Summer Dance on Tour at the first Hudson Valley Flamenco Festival! Anna will be teaching flamenco at SummerDance for ages 9-teen. Spots are still open! REGISTER NOW.